Summary
Jane Foster joins the Marvel's Avengers roster as the Mighty Thor in a free update.
She possesses all the strength and power of a God of Thunder, but with human touches all her own.
This update adds to a game already packed with content, including a sprawling single-player story campaign, ten playable heroes, and endless multiplayer action for up to four players.
We hope you're amped up because Jane Foster, The Mighty Thor, is now playable in Marvel's Avengers as a free update!
The arrival of the Mighty Thor adds a third flying warrior to the Marvel's Avengers roster for new team compositions and fresh co-op play. We'll get into the specifics of her combat kit below, but first, backstory!
The rad lady that is Dr. Jane Foster first appeared as the Goddess of Thunder in 2014's "Mighty Thor" written by Jason Aaron. Her arc continued in 2019's "War of the Realms," culminating when she transcends mortality and is reborn as Valkyrie.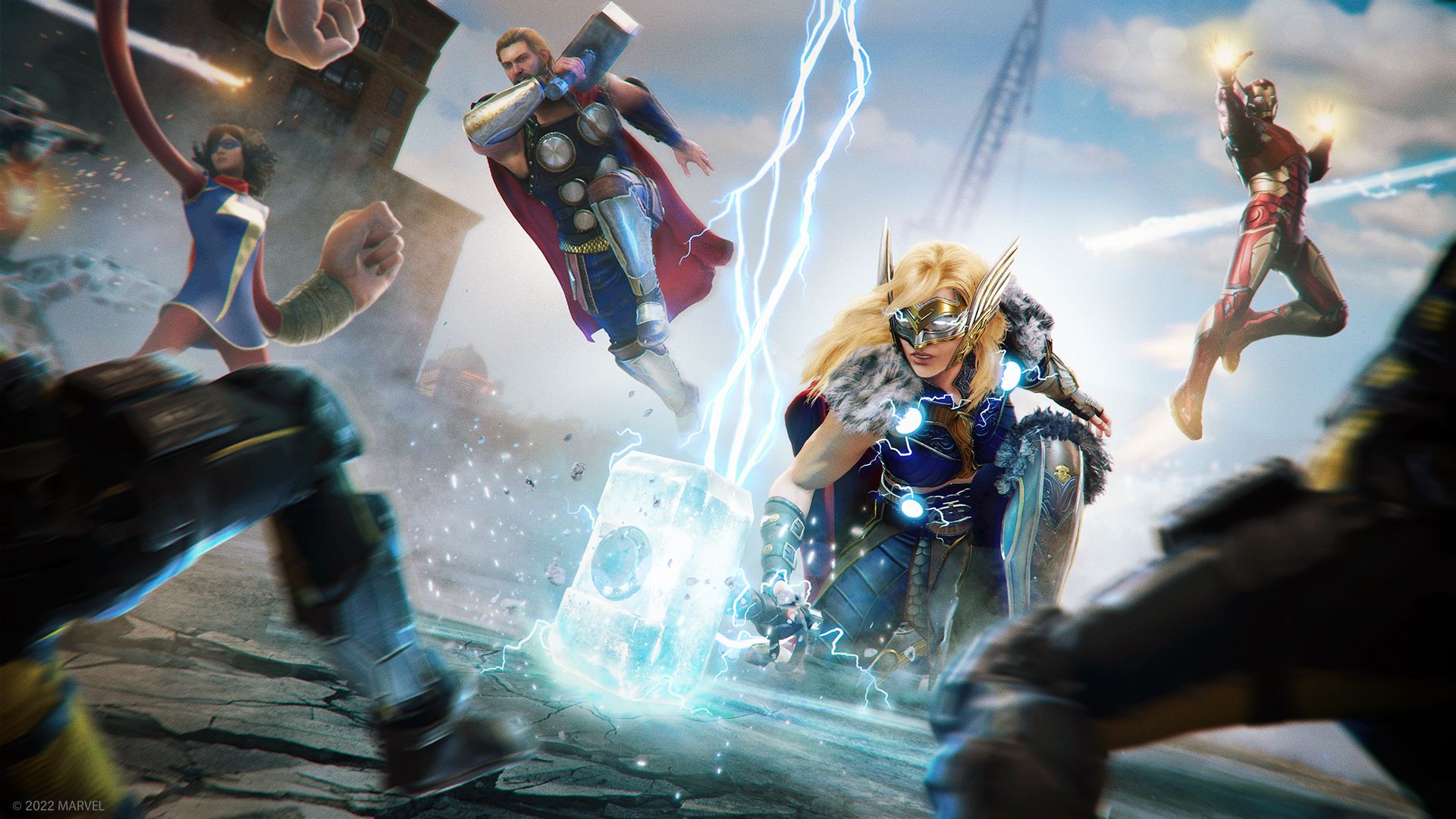 In Marvel's Avengers, Jane is torn from an alternate timeline through a rift in space-time caused by Tachyon Anomalies. In her original timeline, Jane became the Goddess of Thunder when she took up the mantle from Thor, who in his grief gave up Mjolnir after the A-Day tragedy.
Jane Foster is voiced by the talented Zehra Fazal, known for her work across video games and television. In addition to collectable intel documents and character banter, the Mighty Thor's story is told through our brand-new animatic "Marvel's Avengers – The Mighty Thor: Out of Time" illustrated by veteran Marvel artist Takeshi Miyazawa.
So how does Jane play? The Mighty Thor possesses all the strength and power of a God of Thunder, but with human touches all her own.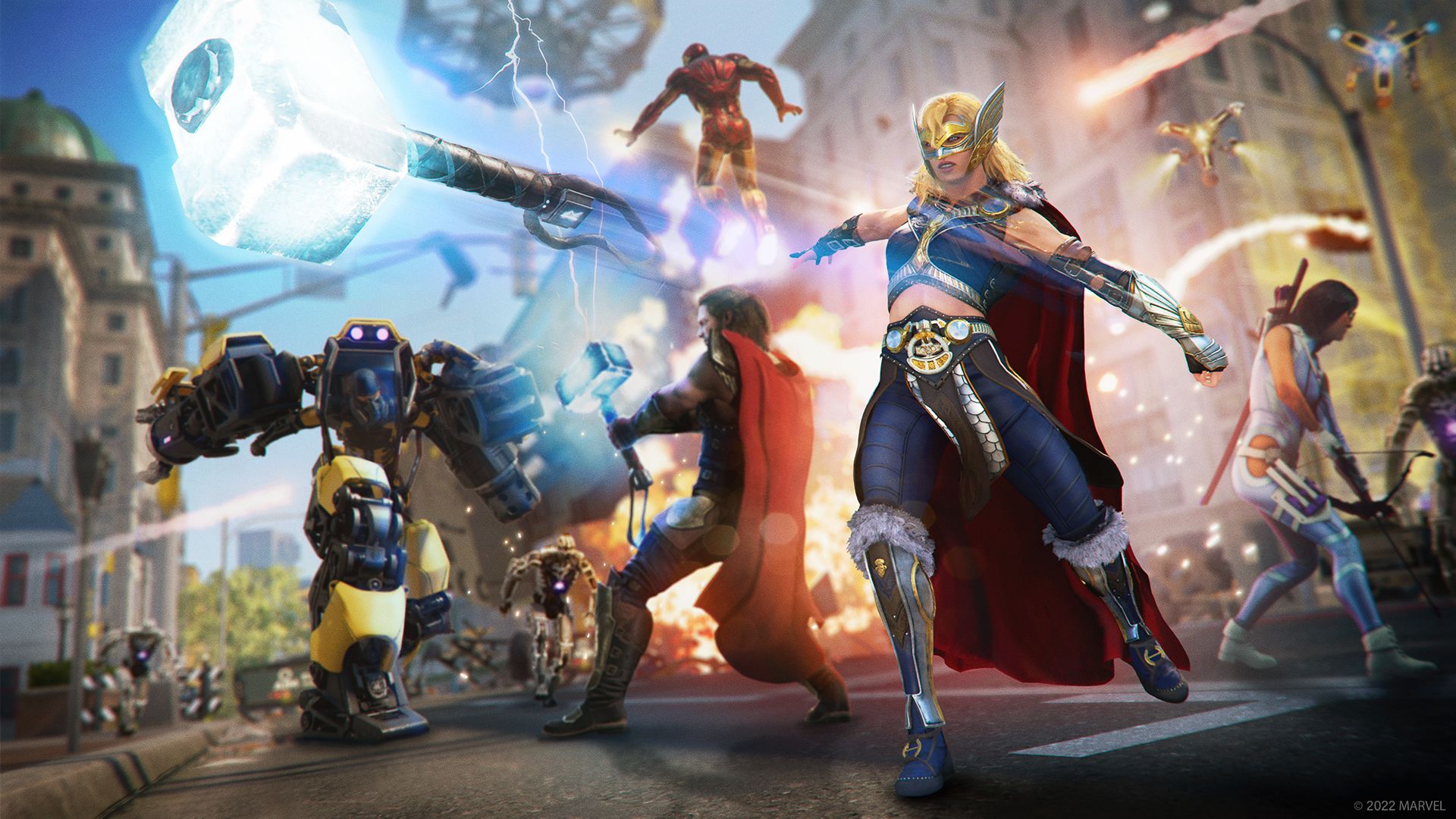 Jane's unique talents with Mjolnir begin with her new intrinsic ability All-Mother's Blessing, and God Tempest, her new Overcharge. All-Mother's Blessing builds its overcharge meter with melee attacks. Once full, she unleashes her God Tempest, which increases ranged hammer damage and creates shockwaves with each hit.
Her finesse with Mjolnir shines through in several new features including Quick Fire, a new ranged attack combo that allows the Mighty Thor to make a second more powerful ranged attack by timing her next throw. The Seek and Pin upgrade to her Ranged Attack empowers Mjolnir to seek out and pin enemies without needing to aim.
Jane's expert control extends to melee strikes with Earth's Finest, which adds a hammer toss to her light attack combo for extra reach. Jane also puts her own spin on classic Odinson moves like Headstrong. She relies on her Thunderkick – a brutal front kick – to send enemies flying.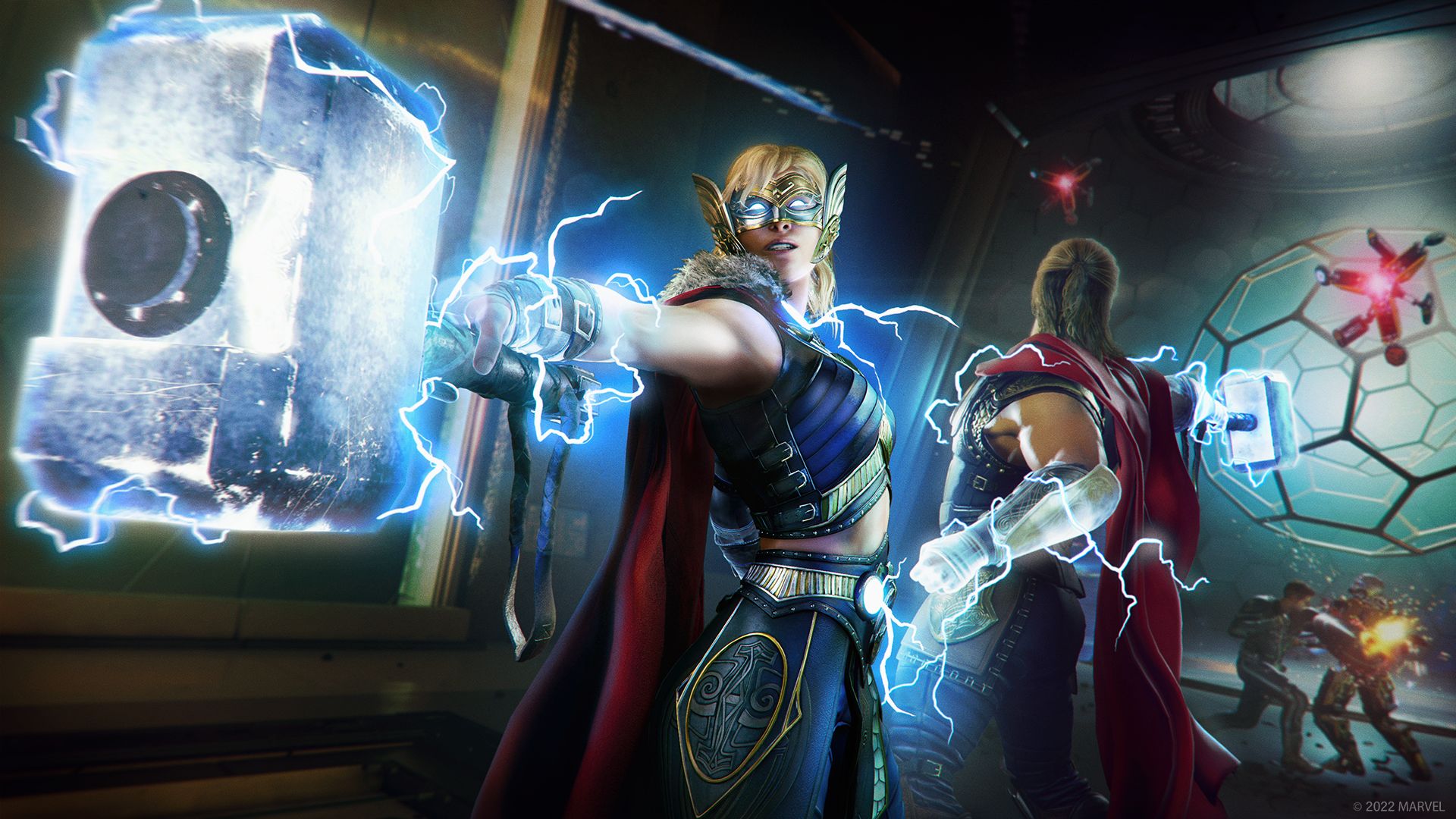 The Mighty Thor's kit culminates in The All-Weapon, her brand-new Ultimate Heroic. Drawn from the pages of her Thor and Valkyrie runs, Jane sends Mjolnir to seek and destroy nearby enemy targets. Meanwhile, she calls forth the All-Weapon Undrjarn to protect her, reducing all damage taken while smiting her foes.
The All-Weapon has a full set of specializations and allows you to customize Mjolnir's strikes, making them faster and channeling a powerful shock status against nearby enemies. Jane can even use Mjolnir as a personal orbiting defense shield. Check her out in action in our most recent War Table Deep Dive below.
In addition to her awesome god-like combat abilities, Jane has a variety of Outfits drawing inspiration from the comics. She also boasts unique Takedowns, Emotes, Nameplates, and has her own Hero Challenge Card and mission chain. These allow you to earn special rewards, including exclusive cosmetics and intel documents that delve deeper into Jane's story.
We can't wait for you to storm through Marvel's Avengers as the Mighty Thor. This update adds to a game already packed with content, including a sprawling single-player story campaign, ten playable heroes, and endless multiplayer action for up to four players.
What's next for Marvel's Avengers? Following the addition of The Mighty Thor in patch 2.5, we'll be adding two new challenges as part of an ambition to advance our narrative through hero and villain-centric content. You can read more in our recent June Development Update.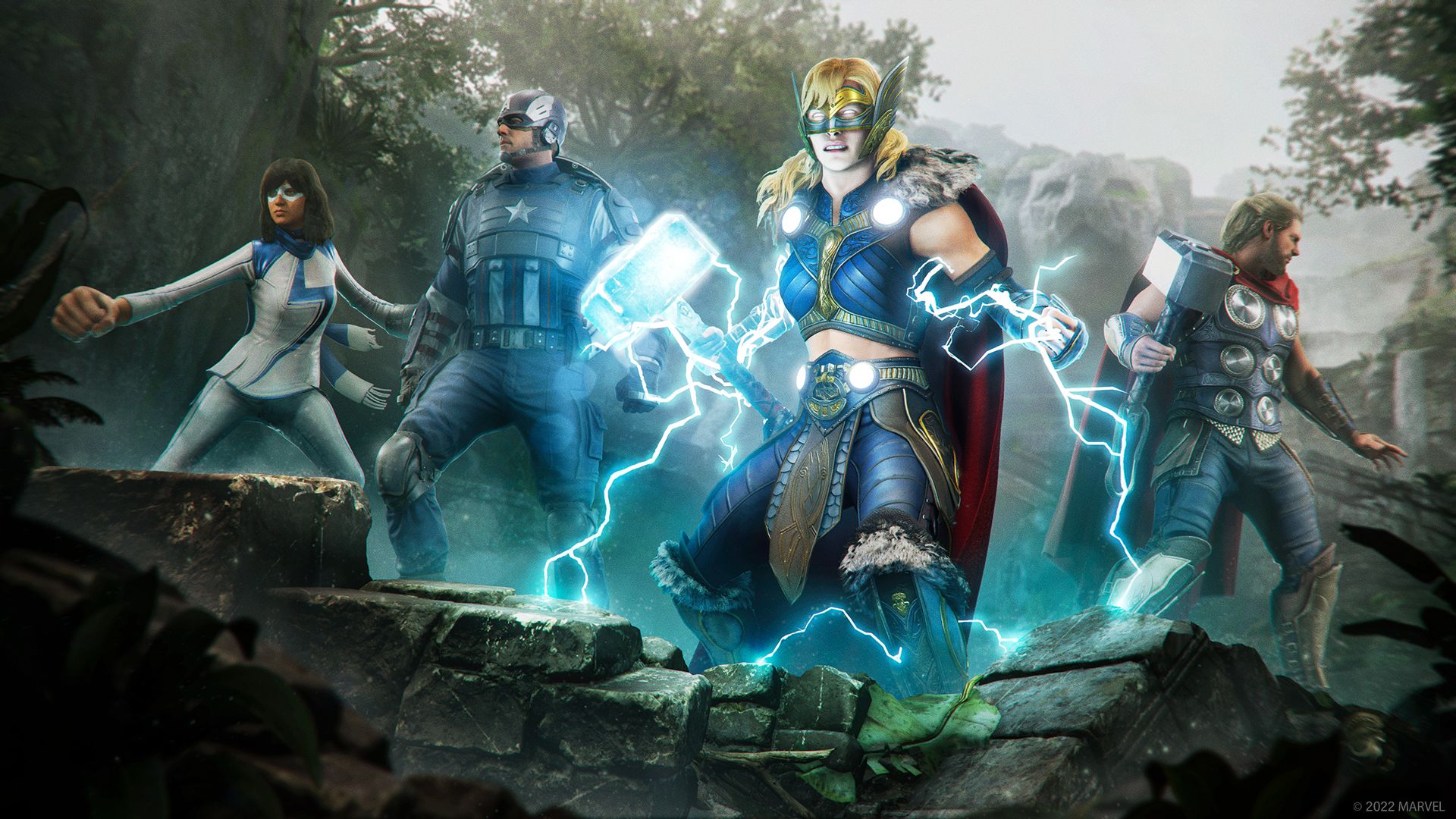 Before I sign off, wanted to remind Xbox Game Pass Ultimate members to grab your membership Perks, including the Ms. Marvel Future Suit outfit, a 3-day hero's catalyst, a 3-day fragment extractor, and 500 Units!
Marvel's Avengers
Square Enix

$39.99

$31.99
PC Game Pass
Xbox Game Pass
Marvel's Avengers is an epic, third-person, action-adventure game that combines an original, cinematic story with single-player and co-operative gameplay*. Take the essential Super Hero gaming experience to another level! Marvel's Avengers will be available for next-gen consoles at no extra cost.* This version will boast a wide spectrum of improvements to visuals and speed, and will be backwards compatible in single and multiplayer. Marvel's Avengers has a beautiful world filled with exquisite detail, and with improved Heroics, destruction, graphical fidelity, and framerate versus previous gen, you won't be missing any of it. Get right into the action with fast loading times and be blown away by the striking detail of enhanced destructive visuals that make Heroics feel truly in your hands. Marvel's Avengers will support save file transfer and cross-gen play so you can pick up right where you left off and continue fighting AIM with your favorite Super Hero squad. We're excited to herald in the next generation of consoles on Marvel's Avengers!

Marvel's Avengers leverages the Smart Delivery technology – buy the game once and play it on either Xbox One or on Xbox Series X|S. Marvel's Avengers on Xbox Series X|S is available now!***

*One-time online access required for single-player campaign; online access required for multiplayer and to download post-launch content. Free Square Enix Members account required. Platform-specific online subscription fee may be required.

*Upgrading from the disk version will require the next-gen version of the same console with a disk drive.

**Credits that you purchase are useable on Xbox Series X|S Console version of Marvel's Avengers. Please be aware that the Credit that you own is synced with your Microsoft account, and the wallet will be shared through both platforms.