Summary
Search for the missing Merrick in 'The Forsaken Hunter', Sea of Thieves' latest narrative-driven Adventure, from June 30 to July 14.
Swap your pirate's hat for a detective's cap as you uncover clues, follow the trail and find out the fate of the vanished Hunter.
Sea of Thieves is available free for all players with Xbox Game Pass and across Xbox Series X|S, Xbox One, Windows 10/11 and Steam.
First introduced alongside an aquatic nemesis way back in Sea of Thieves' first ever content update The Hungering Deep, the fearless fisherman known as 'Merry' Merrick has become a familiar face to pirates old and new. Most recently, he's been championing the restoration of Golden Sands, a beloved Outpost that had fallen into ruin as part of Captain Flameheart's nefarious schemes.
Now, in the wake of a victory against The Reaper's Bones, Merrick has vanished without a trace. Although the cinematic preview of the new Adventure suggests that a foul fate may have befallen this famous Megalodon wrangler…
---
Something Fishy
---
There are plenty of questions to be answered, and the only way to uncover the real truth behind Merrick's absence (and learn the identity of those responsible for waylaying the hapless Hunter) is to talk to Larinna, follow her advice and throw yourself into the search. From there, your journey will take you on a trip to Stephen's Spoils – the humble Seapost where Merrick usually spends his days representing The Hunter's Call – before the Adventure carries you onward…
If the idea of wading in after four Adventures is a little intimidating and you need a recap of all that's happened so far, check out the latest in the series of Adventures Ahead primer articles. Consulted alongside the Sea of Thieves Who's Who directory, these will rapidly get you up to speed and ready to sail!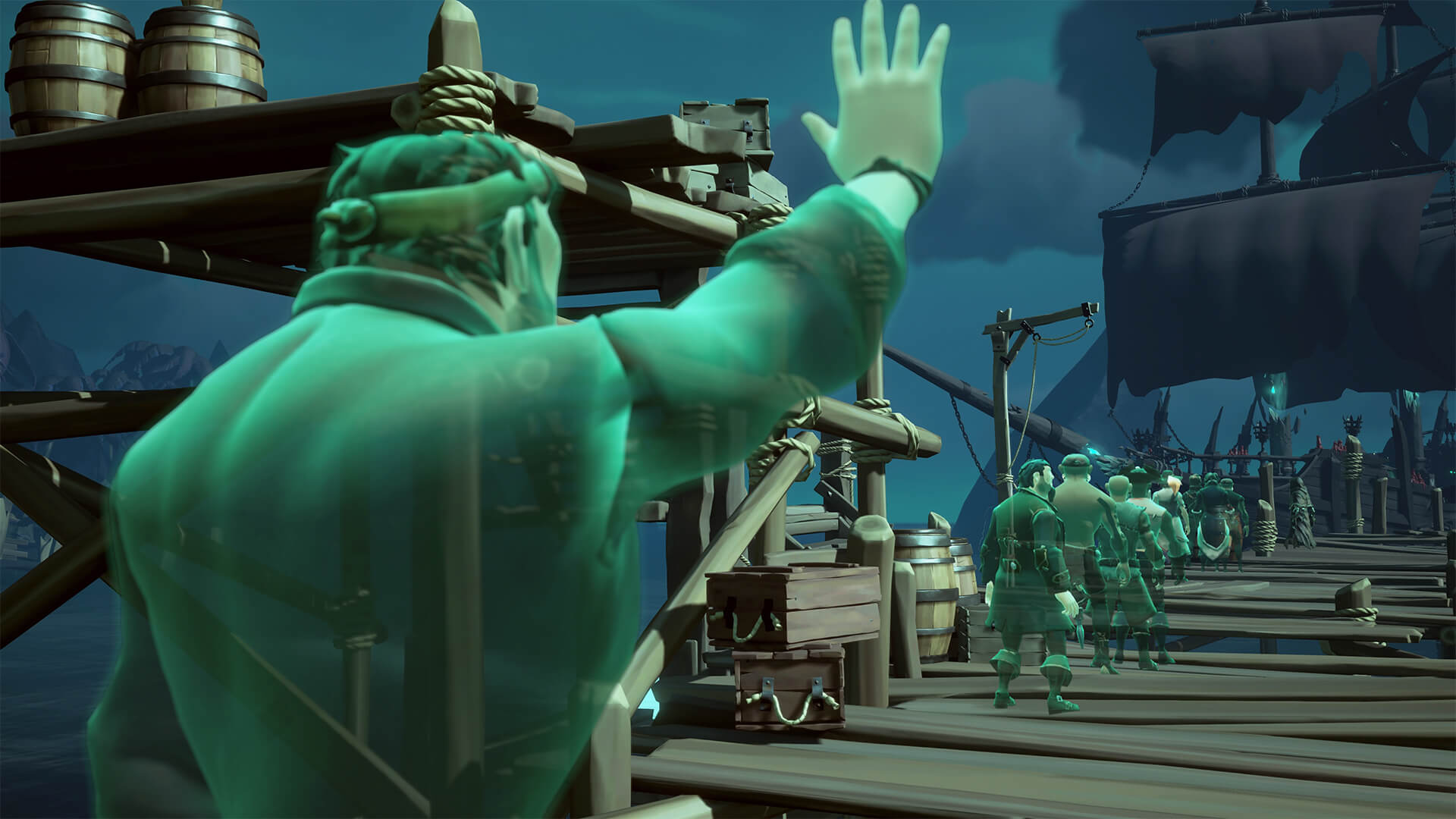 ---
Give Us a Clue
---
As your search for Merrick takes you far and wide across the map, you'll meet familiar friends and foes, some of whom will offer clues to the Hunter's whereabouts and the motives of those who've been scheming against him. Ultimately, though, you'll need to rely on keen eyes and a sharp sword to unveil a conspiracy that goes far beyond the welfare of a single pirate – it stands to permanently shift the balance of power on the Sea of Thieves.
Whether you stood with or against Merrick during the battle for Golden Sands Outpost, the dark secrets underpinning his disappearance will shape the seas in the weeks ahead. You can discover the truth for yourself, and earn an exclusive Memento of the Adventure, by taking part in 'The Forsaken Hunter' between now and July 14. Start sleuthing, pirates – Merrick is counting on you…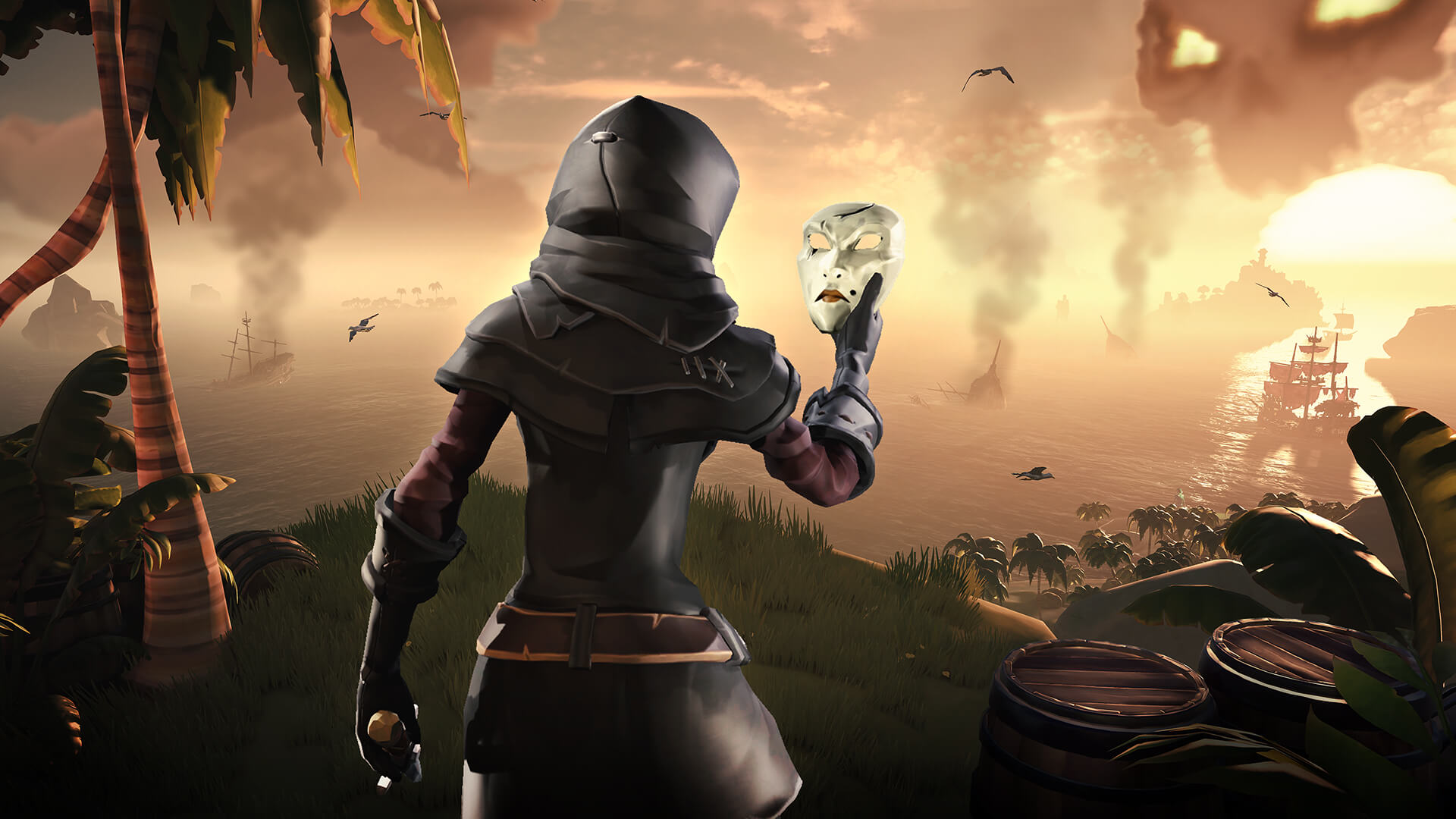 ---
Find Out More
---
For more information on the latest Sea of Thieves update, including full release notes, visit the Sea of Thieves website. This update is available for free to all Sea of Thieves players who have bought the game on Xbox Series X|S, Xbox One, Windows 10/11 PC or via Steam, or players who have access to it with Xbox Game Pass. Simply download and install the latest Sea of Thieves update to get access.
New to Sea of Thieves? Find out about the latest free content updates on our What's New page and pick up some tips from our Pirate Academy, which provides invaluable information on topics ranging from sailing to swordplay as you prepare for your maiden voyage. Learn more about Sea of Thieves here, or join the ongoing adventure at www.seaofthieves.com where you can embark on an epic journey with one of gaming's most welcoming communities!
Sea of Thieves
Microsoft Studios

$39.99

$31.99
Xbox One X Enhanced
PC Game Pass
Xbox Game Pass
Xbox Live Gold membership required to play on Xbox One; sold separately.

=========

About the game
Sea of Thieves offers the essential pirate experience, from sailing and fighting to exploring and looting – everything you need to live the pirate life and become a legend in your own right. With no set roles, you have complete freedom to approach the world, and other players, however you choose.

Whether you're voyaging as a group or sailing solo, you're bound to encounter other crews in this shared world adventure – but will they be friends or foes, and how will you respond?

A vast open world
Explore a vast open world filled with unspoiled islands, sunken ships and mysterious artefacts. Take on quests to hunt for lost treasure, seek out cursed Skeleton Captains or gather valuable cargo for the Trading Companies. Go hunting and fishing or choose from hundreds of optional goals and side-quests.

Unforgettable stories
Play through the Tall Tales to experience Sea of Thieves' unique take on a story-driven campaign. With 11 tales to play through across two epic storylines, these immersive and cinematic quests provide around 30 hours of the ultimate pirate fantasy.

Become Legend
On your journey to become a Pirate Legend you'll amass loot, build a reputation and define a unique personal style with your hard-earned rewards. Adventurer. Explorer. Conqueror. What will your legend be?

A game that's always growing
With five major expansions and almost a year's worth of monthly updates, Sea of Thieves is a service-based game that is continually growing and evolving. Check back each month to see what new content has been added.